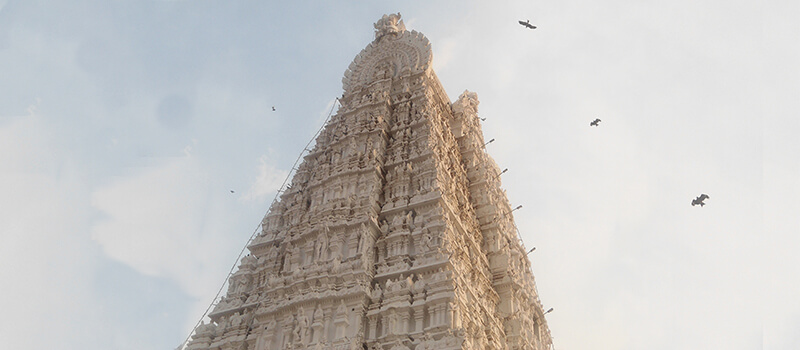 Tirupati One Day Tour Packages
Places Covered :
Govindaraja Swami Temple, Kapila Theertham, Tiruchanur, Srinivasa Mangapuram and Chandragiri.
Details :
1. Govindaraja Swami Temple
At a distance of 1 km from Tirupati Railway Station & 22 km from Tirumala Tirupati Balaji Temple, Sri Govindaraja Swami Temple is one of the important temples in Tirupati, located in the heart of the city. It is one of the best places to visit in Tirupati city.
The original temple had Sri Parthasarathi as the main deity. Sri Ramanuja added the Sri Govindaraja deity in 1130 AD. Yadavaraya Dynasty made several gifts for decoration of the chariot and carrying necessary repairs of the temple. The temple came in for greater importance in 1506 AD during the rule of Vijayanagara Dynasty and from then onwards different rulers in a different way developed the temple.
This famous temple in Tirupathi is a remarkable achievement of the ancient south Indian architecture. It has an impressive outer gopura and an inner gopura. The inner most gopura is the earliest one, dating from the 14th century and has carvings that depict scenes from Ramayana and Lord Krishna's life. The temple has two main shrines dedicated to Lord Vishnu and Lord Krishna. The shrine to the north is Sri Govindaraja and the shrine to the south is Sri Parthasarathi (Lord Krishna). The idols of Rukmini and Satyabhama are also found here.
The presiding deity Sri Govindaraja Swamy is found lying on Ananta. He is considered as brother of Lord Venkateswara. The Govindaraja Swamy was the caretaker of massive wealth borrowed from king Kubera for the marriage ceremony of Lord Venkateswara with Padmavathi Devi. He efficiently utilized this wealth to conduct one of the most glorious marriages in the mythology. Hence Govindaraja Swamy is considered to be the god who helps you elevate your wealth and efficiently manage the wealth acquired.
This temple complex includes museum and smaller shrines like Kalyana Venkateswara Swami Temple, Andal Temple, Salai Nachiyar Devi Temple, Ramanuja Temple, Vyasaraya Anjaneyaswami Temple, Alwar Temples, Chakrathalwar Temple, Manavala Mahamuni Temple, Vedanta Desikar Temple and Anjaneyaswami Temple.
This is the biggest temple in Tirupati town and attracts lakhs of pilgrims. The abhisekhas are performed to a small idol as the main statue is said to have built using sand. This temple is managed by Tirumala Tirupati Devasthanm board.
The Bramhotsavam of Govindaraja Swamy during the month of May-June (Vaisakha) and annual Float festival held in February – March, attract a large number of devotees every year.
2. Kapila Theertham
At a distance of 4 km from Tirupati Railway Station & 25 km from Tirumala Tirupati Temple of Lord Venkateswara, Kapila Theertham is a famous waterfall situated inside Kapileswara Swamy Temple at the foot of Sheshadri Hills in Tirupati. This is a unique waterfall where the water of mountain streams drop from a height of over 100 feet into a large pond in the temple premises. It is one of the must visit tourist places in Tirupati and a major pilgrimage site in Tirupati city.
Kapila Theertham temple is the only Shiva temple in the vicinity of Tirupati. It is also said to be one of the 108 sacred teerthas (springs) on Tirumala hills. The Siva lingam here is made of brass. A huge stone statue of a seated bull Nandhi, greets devotees at the entrance to the temple.
According to legend, Saint Kapila Maharishi was said to have lived here, worshipped and meditated in the cave in front of the idol of Lord Shiva, hence the placed is named after the saint as Kapila Theertham. Lord Shiva is said to have blessed Sage Kapila with a vision of himself and his consort. This temple received very good support from the Kings of Vijayanagara between 13th and 16th centuries, especially from Krishna Devaraya.
There are many sub-shrines with-in the main temple premises. Temples for Kamakshi, Vinayaka, Subhramanya, Agastheeswara and Sri Krishna are few among them. Both the temple and the waterfall are considered to be highly sacred. A holy dip here is believed to rid the devotees of all sins. This is a good place to visit during the monsoons as the water fall looks breathtaking. The waterfall would be empty in late winter and summer seasons.
The famous festivals celebrated in the temple are Brahmotsavam, Annabhishekam, Maha Shivarathri and Vinayaka Chaturthi. Kapileswara Swamy Brahmotsavam is the biggest event of the temple celebrated in during the month of February. Another auspicious day is the full moon day in the Karthika Month.
3. Tiruchanur
At a distance of 5 km from Tirupati Railway Station & 27 km from Tirumala Tirupati Balaji Temple, Tiruchanur also called as Alimelumangapuram is famous for Alimelu Manga Temple dedicated to goddess Padmavati, the consort of Lord Venkateswara. It is believed that pilgrimage to Tirumala is incomplete without a visit to Sri Padmavati Ammavari Temple at Tiruchanur.
According to ancient scripts, as Lord Venkateswara Temple at Tirumala was not easily accessible, a new temple called Tiruvalan Koil was constructed at Tiruchanur near Tirupathi to house Lord Venkateswara in 8th century by Pallavas. The temple was later dedicated to Padmavati Devi by Yadava Rayas in 12th century.
According to the legend, Lord Vishnu showed his reverence towards the sage Bhrigu, even though the sage had insulted Vishnu. In anger, Sri Maha Lakshmi immersed herself for 12 years here in pushkarini the banks of Swarnamukhi River and emerged from it in a Golden Lotus in the 13th year on Panchami day of Kartika month. The temple symbolizes reunion of Lord Venkateswara and Goddess Padmavathi.
The temple was built in Vijayanagara style and is made in white and gold around the southern banks of Swarnamukhi Pushkarini. The temple is an impressive structure with a Gopura, Mandapa and the sanctum. The presiding deity, Sri Padmavati Devi is seated in Padmasana holding a lotus. Tiruchanur also comprises Sri Krishna Temple, Sri Sundararaja Swamy Temple and Sri Suryanarayana Swamy Temple. It is a tradition to first worship Sri Krishna and then to take darshan of Sri Padmavati.
The Brahmotsavam of Goddess Padmavathi is celebrated during the month of Karthika Masam is the main festival here. The offerings to the goddess from Lord Venkateswara are brought to Tiruchanoor on a specially decorated elephant with great honor.
This place can be reached by Bus/Auto from Tirupati Bus Station. Only Hindus are allowed in the temple.
4. Srinivasa Mangapuram
At a distance of 12 km from Tirupati, 3 km from Chandragiri & 29 km from Tirumala Tirupati Temple of Lord Venkateswara, Srinivasa Mangapuram is famous for Sri Kalyana Venkateswara Swami Temple. This is one of the important temples near Tirupati town and is located towards Chandragiri town. It is one of the must visit Tirupati Temples
The ancient temple at this site was discovered by some devotees in 1540 CE. The present form of the temple came into existence by the relentless efforts of Chinna Thirumalaiyya, the grandson of Annamacharya. According to legend, Lord Venkateswara stayed here after his marriage with Sri Padmavati Devi. Once the marriage ceremony got over, Venkateswara paid a visit to the holy ashram of sage Agasthya located near the banks of the river Swarnamukhi in Chandragiri Hills. It is believed that sage Agasthya requested them to stay in his ashram for six months. Later, the location where the Lord stayed with his bride became a holy shrine and acquired the name, Sri Kalyana Venkateswara Swamy Temple.
This ancient temple which is under the control of Archaeological Survey of India (ASI) is maintained by Tirumala Tirupati Devasthanams since 1967 and utsavams and rituals in this temple are being performed since 1981. Today, Sri Kalyana Venkateswara Swamy temple is considered as of the sacred temples of Venkateswara. Those who are unable to make it to Tirumala can have darshan of Lord Sri Kalyana Venkateswara Swamy to fulfill their wish. Sri Rama Temple, Sri Ranganayaka Temple, Sri Padmavathi and Sri Andal Temple are other shrines in this complex. Devotees can also find small shrines including Sri Sakti Vinayaka Swami, Sri Veerabhadra Swami, Sri Avanakshamma, Sri Parasareswara Swami and Sri Agastheeswara Swami.
This temple carries significance for newlywed couples who offer prayers first in this temple just after their wedding. It is also said that individuals having trouble getting into wedlock can pray here and get rid of troubles. Kalyanotsavam to the Lord is performed here every day. Devotees get rid of their troubles by attending this ritual.
Annual Brahmotsavam and Shakshatkara Vaibhavam are major festivals celebrated here.
5. Chandragiri
At a distance of 15 km from Tirupati, 33 km from Tirumala Tirupati Balaji Temple, 147 km from Chennai, 238 km from Bangalore & 574 km from Hyderabad, Chandragiri is an ancient town and the seat of Yadavaraya Kings from 11th to 13th centuries and fourth capital of Vijayanagar Dynasty. Chandragiri along with Tirupati is one of the ideal Chennai weekend getaways and a major heritage / historical site in Andhra Pradesh. It is one of the prime Tourist places in Tirupati town.
Chandragiri near Tirupati is famous for the historical fort, built in the 11th century. Chandragiri was under the rule of Yadavaraya Dynasty for about three centuries and came into control of Vijayanagar rulers in 1367. It came into prominence during Saluva Narasimha Rayalu. Chandragiri was the 4th capital of Vijayanagar Empire and they shifted their capital here when Golconda sultans attacked Penukonda. In 1646, the fort was annexed to the Golconda territory and subsequently came under Mysore rule before controlled by British.
The Fort is built on a huge rock at an altitude of 183 meters. The southern side of the hill is enclosed by strong walls, surrounded by a ditch to prevent any intruder from entering into the fort. The Chandragiri Fort has eight ruined temples inside the fortification along with Raja Mahal, Rani Mahal and other ruined structures.
The Raja Mahal Palace is now an archaeological museum. The palace is one of the finest examples of Vijayanagara architecture. This imposing three storied palace adorned by the crowning towers represents Hindu architectural elements. The palace was constructed using stone, brick, lime mortar and devoid of timber. The central tower that covers durbar hall rises through two stories. It is said to be the same venue where Sri Rangaraya granted the site of Fort St. George to the British in 1640. The floors are supported by massive pillars while the walls bear fine plaster and stucco decorations.
Queen's Palace is Similar to the Kings palace in style and method of execution. Contrary to the popular belief that this place was meant for the queen, the records available from the basement speaks this building was used as commander's quarters.