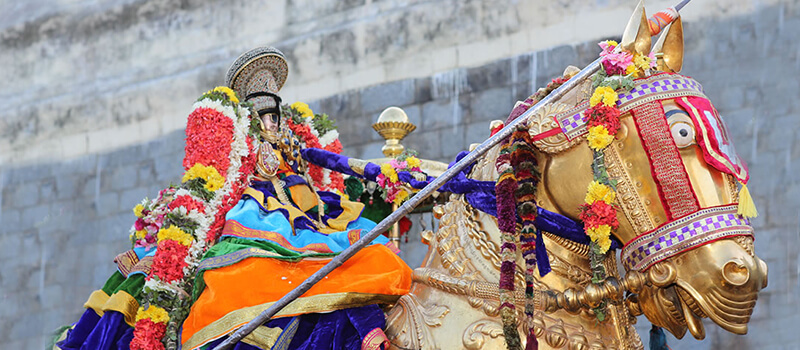 Trichy Packages
Places Covered :
Ranganathaswamy Temple, Srirangam, Ucchi Pillayar Temple, Rockfort,Thiruvanaikkaval (or) Jambukeswara Temple, Srirangam Island, Samayapuram, Kallanai Dam.
Tour Description :
Tiruchirappalli Rockfort (trichy malaikottai) :
Tiruchirappalli during the rule of the British this town was called Trichnopoly. Today it is Tiruchirappalli and is also called Trichy for short. This city is situated on the banks of the Kaveri river. Tiruchirappalli is the fourth largest city in the state and it was a citadel of the early Chola rulers which later fell to the Pallavas kings. The Pallavas never really managed to retain control of this strategic city and lost it to the Pandyas several times. The struggle for power between the Pallavas and Pandyas continued till 10th century as the Cholas asserted and assumed rule for a long time. Tiruchirappalli is 325 km from Chennai.
Ranganathaswamy Temple, Srirangam :
The Sri Ranganathaswamy Temple or Thiruvarangam Tamil : திருவரங்கம் is a Hindu temple dedicated to Ranganatha, a reclining form of Hindu deity, Vishnu located in Srirangam, Tiruchirapalli, Tamil Nadu, India . Srirangam: The most important pilgrim centre in the district is located on an island just 7 kms from Tiruchirappalli. Srirangam, surrounded by the waters of the River Kaveri on one side and its tributary the River Kollidam on the other, is a 600-acre island-town enclosed within the seven walls of the gigantic Sri Ranganatha Swamy Temple. This is the seat of the pontiff of the Vaishnavite, who are the worshippers of Lord Vishnu. There are not less than 21 gopurams here in this temple, one of which is the tallest in South India. The 72m high 13-tiered Rajagopuram was built in 1987 and this tower dominates the landscape for miles around, while the remaining 20 gopurams were built between the 14th and 17th centuries. Originally, there was just a 20 small shrine where the temple is today. but it was added on to and expanded by Cholas, Cheras, Pandayas, Hoysalas, the vijayanagar kings and Nayaks of Madurai and today Srirangam stands as the biggest temple in the country.
Thiruvanaikkaval or Jambukeswara Temple Situated 2 kms east of Srirangam, this beautiful Shiva temple steals the show from the larger Ranganathaswami temple because of its excellent architectural design. The temple is named after the elephant that is believed to have worshipped Lord Shiva here. Installed under an ancient Jambu tree, the lingam is partially submerged by water and meant to represent the God as Water.
Ucchi Pillayar Temple, Rockfort :
Ucchi Pillayar koil, is a 7th-century Hindu temple, one dedicated to Lord Ganesh located a top of Rockfort, Trichy, Tamil Nadu, India.
Jambukeswarar Temple, Thiruvanaikaval :
Thiruvanaikaval is a famous Shiva temple in Tiruchirapalli, in the state of Tamil Nadu, India. The temple was built by Kocengannan, one of the Early Cholas, around 1,800 years ago.
Kallanai Dam :
Kallanai is an ancient first dam in the world which is built across the Kaveri River in Trichy District in the state of Tamil Nadu in South India.